BEHIND THE BREWERY
Hello! My name is Andy Dunn. My wife, Angie, and I would like to introduce you to the Walking Stick Brewing Company and our tap room and beer garden we lovingly call The Stick. Five years ago, while playing volleyball at the CrowBar in Garden Oaks, we noticed an old industrial building with a sign, "For Sale by Owner" across the street.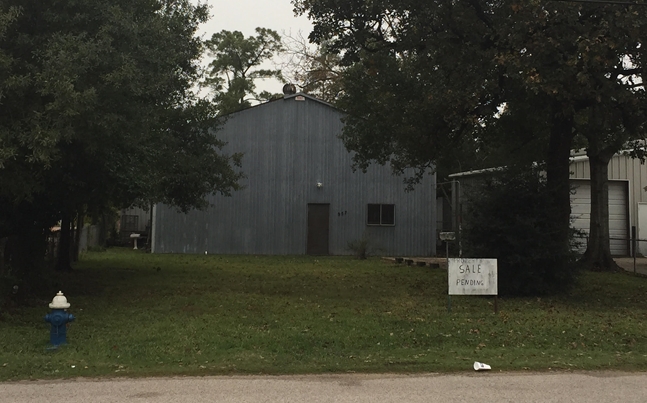 We thought, let's buy it!! We can take something with a distressed, industrial vibe and turn it into something beautiful. Angie is a native Houstonian and I grew up in Colorado. We decided to create a business that incorporates "Distressed Houston Industrial" with "Alpine Colorado". Other than that, we had no idea what we wanted……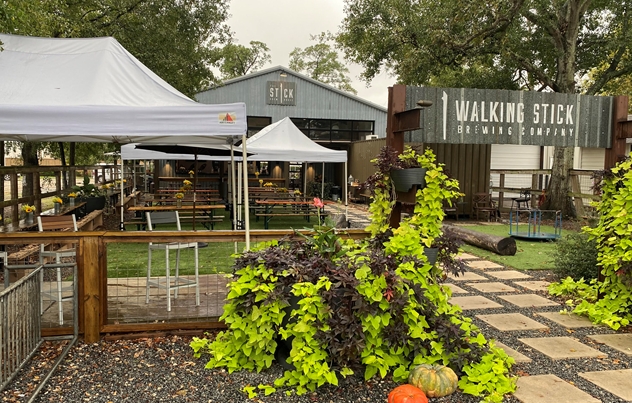 Five years later, we have a family friendly craft brewery, tap room and two beer gardens that serve the neighborhoods of Garden Oaks and Oak Forest.
Our location spans an entire block which gives us natural beer gardens on both sides of our tap room. The south side of the property was as tired and worn as the north side.
We loved the distressed buildings and planned to preserve as much of that look as possible. Once we settled on developing a craft brewery, we realized we needed a modern building for the brewery itself and we said goodbye to the smaller tin shack that was standing on the south side of the lot and built a new building for the brewery in its place.
The beer garden adjacent to the brewery building on the south side is ideally suited for celebratory events (weddings, showers, birthdays etc).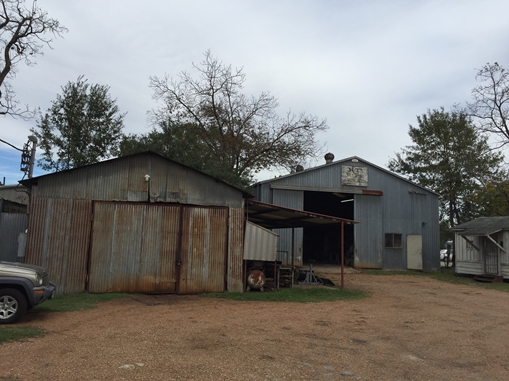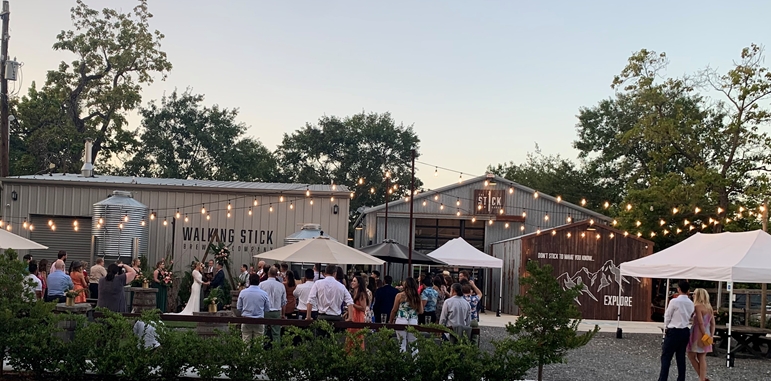 Our tap room leverages a metal building initially built to provide cleaning services for tents and parachutes. It was then used as a "welders shack" for over 30 years.
We found it dark, dank and dusty. A perfect palette for our planned look and feel. The high ceilings and metal framing provided ample room for large windows making our final design light and airy. Plenty of room for suspended walking sticks and our "floating alpine forests" that change with the seasons.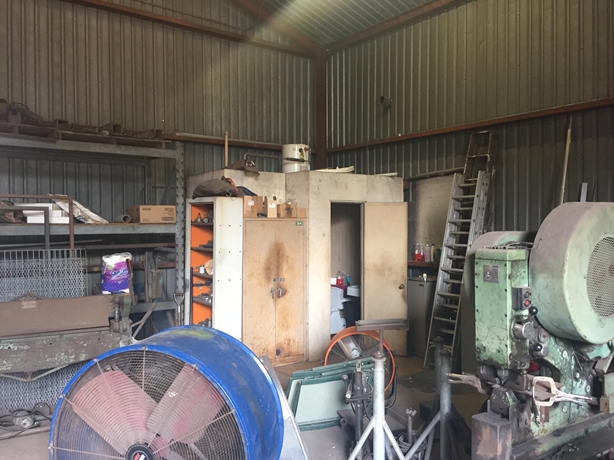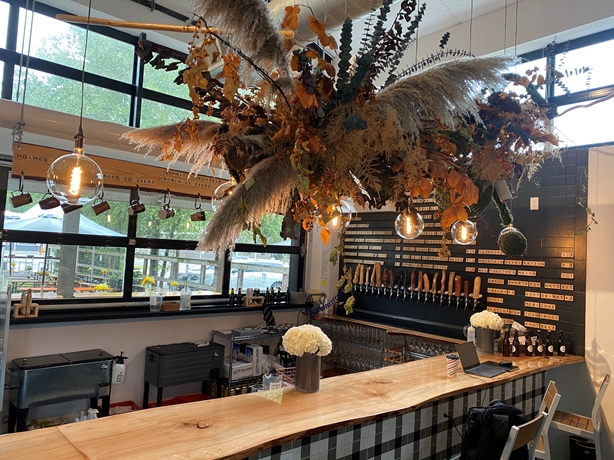 The brewery itself has a 10-barrel brew house built by Portland Kettle Works. They specialize in 3-30 barrel systems manufactured entirely in the US by their fabricators in Portland Oregon. Currently, we have enough fermentation and storage capability to produce 2,000 barrels per year.
I'm passionate about using US-based fabricators for many reasons, not the least of which is the history of our brewery location. I bought the property located at 956 Judiway in Houston from Milton Tom, an 85-year-old fabricator who used the location as his production site for over 30 years. His wife finally convinced him to retire in 2015. At the time, Milton still maintained perfect vision, never using any sort of eyeglasses (I still marvel at that!!). It seems that he was a local legend, based on his enigmatic personality and the quality of his work. Two years after he has retired, folks still stop by asking about him. We have preserved Milton's legacy by including many of his creations as part of the brewery's personality.
Why did I decide to open a brewery? Good question. The short answer is that I would have loved to open an oil refinery if producing refined products had a "craft" dimension to it; sadly, it doesn't. It is simply impossible to be a "craft refiner", but can you imagine the possibilities? If you dwell on it long enough, you realize that the physical process of brewing beer and refining oil are not all that different: you begin with a number of inputs, mix them together, alter their molecular structure with certain additives at different temperatures, and produce something else. It requires an impressive suite of tanks, pipes, hoses and mechanical equipment, a keen knowledge of science, math and engineering and success is born only from careful attention to process optimization.
At this point, one might assume that I am a petroleum engineer; I am not. I do, however, have an unusual level of envy for someone with that knowledge set. My professional history has centered on finance, accounting, and energy. I "cut my teeth" dealing with market, credit and operational risks embedded in the large investment banks located in London while working at PriceWaterhouseCoopers. That experience led me to advising energy companies in Houston on the same, relevant issues. As it turns out, you can apply complex valuation theories born on Wall Street to energy assets owned in the heart of Texas. As a result, I found myself working in Houston and fell in love with the city and its people. In all, I spent over 25 years in consulting, the last eight at Deloitte as a Partner in their Advisory practice. My time in London also introduced me to the traditional Pub and British beer styles that we offer at our brewery.
I grew up in Colorado where we enjoy the full range of outdoor mountain activities. There are 58 mountains in Colorado that are over 14,000 feet in elevation (known as "14ers") and each summer, we make it a goal to bring our Texas friends to the mountains to climb one of them. It is such a unique experience that, while difficult, is certainly possible to achieve if you are active and ambitious. We love this attribute of our Rocky Mountains and want to bring a little of that love back to Houston with us. In fact, our beer styles and names are also derived from the Rockies as each beer is named after a 14er. For instance, the "Conundrum Grapefruit IPA" is named after Conundrum Peak (elevation 14,047 feet) and the "Massive Brown Porter" derives its name from Mount Massive (elevation 14,429 feet).
One other important fundamental attribute of our brewery. We are family friendly. Some might say out of necessity….. I have six kids!!! Truth be told, Hayley, Drew and Ethan are grown and off pursuing their own lives. However, Angie and I have three beautiful children under the age of three and we want them to grow up in a family friendly environment.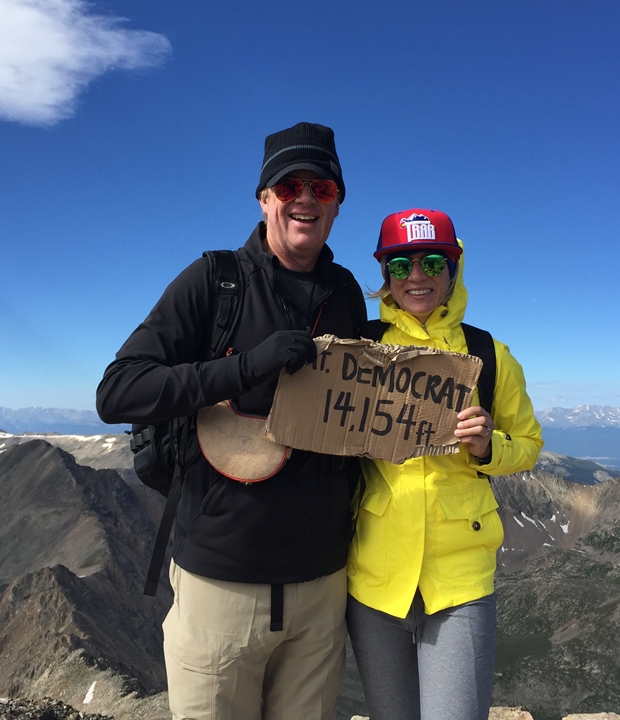 Andy and Angie at the Summit of Mt. Democrat in the Fall of 2015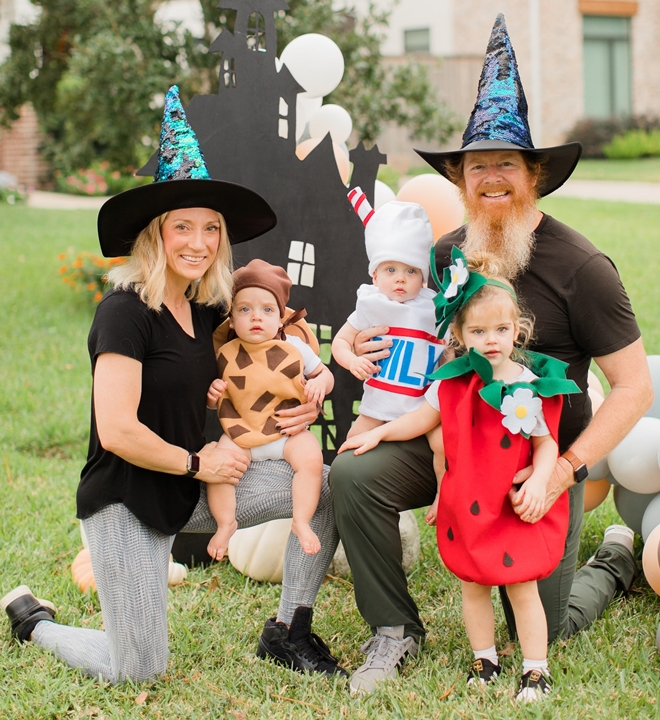 Andy and Angie with Dylan (strawberry), Emerson (milk), and Oliver (cookie) in October 2020
Reviews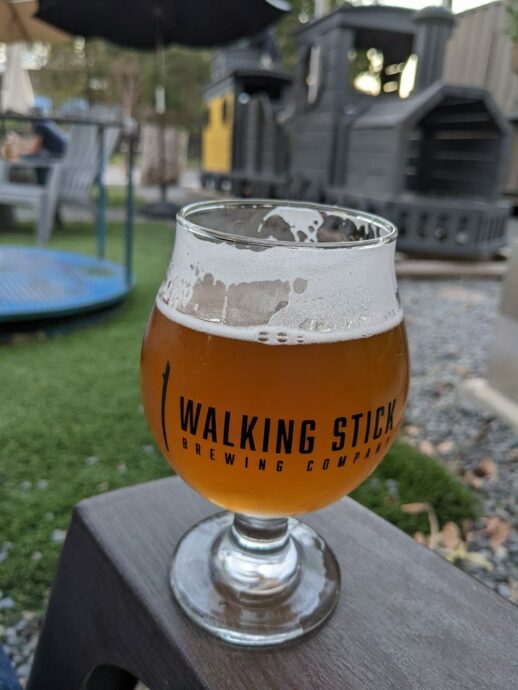 "Great local neighborhood brewery! All the beers I tried were amazing (I love IPAs). Family oriented feel and the staff was very friendly. They have food trucks, Chef Marcela's Kitchen was there and the had tasty healthy options (staff here was also super friendly). I'll definitely be coming back to unwind here with (or maybe without) the family!"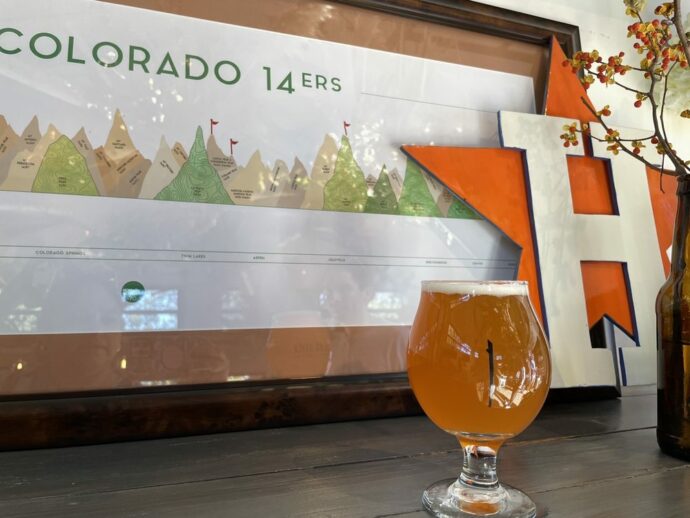 "Alright, Houston, youve convinced me that the brewery scene in Texas is becoming something. We stopped by on a recent trip to family and really appreciated the vast patio spaces and open seating areas. After peeking & poking around for bit, we had an itch we just couldn't scratch...Longs Peach? Crestone? Sneffles? Something was fishy & felt a bit close to home so we had to ask...is there a CO connection? Yep! Most of the beers are named after hikes the owner did in and around CO so we immediately loved it. The beers were pretty tasty and so much better than we expected. The atmosphere was also a friendly reminder that breweries can be kid friendly spaces, again a bit of Colorado culture that we don't usually see in and around Texas.  It felt welcoming and unpretentious, unlike so many other places Ive visited in my years of traveling to Houston. Even though we're born & raised Texans living in CO, the CU brick from Folsom field helped us like this place even more- sko buffs!"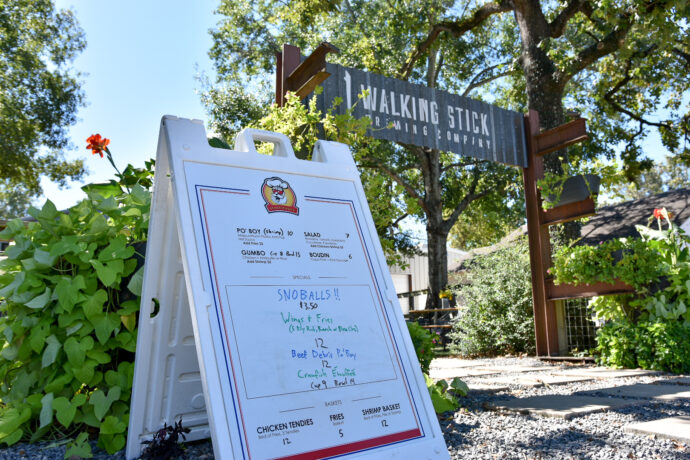 "Absolutely LOVE this place. The beer tastes great, there's always something for my husband and I to drink. Atmosphere is very relaxing and comfortable. I wish I lived closer to this place so I could visit more often."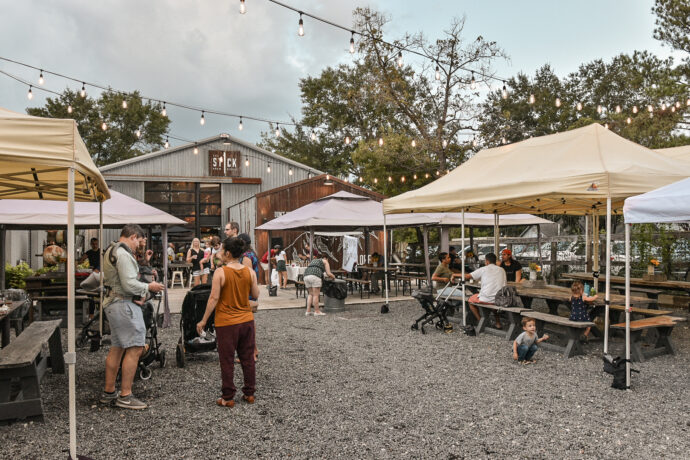 "

Nice chill vibe. Music playlist during our visit was great and gave a good vibe. I'm not a beer person but liked a couple of their offerings - blonde and peach.

"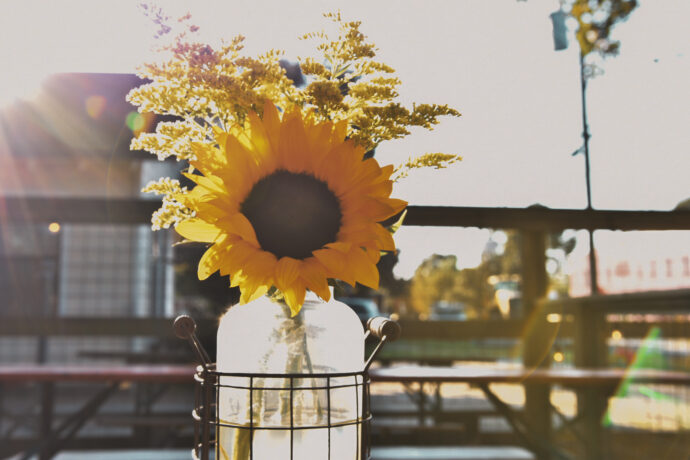 "We've been coming to Walking Stick for years and it only gets better and better. You can't beat both of their beer gardens and the inside is always changing with the seasons. Fresh flowers every week with so many events for the community to engage; run club, steak night, yoga, etc. This is our go-to spot for the beer, atmosphere, and super friendly staff. 10/10 recommend!"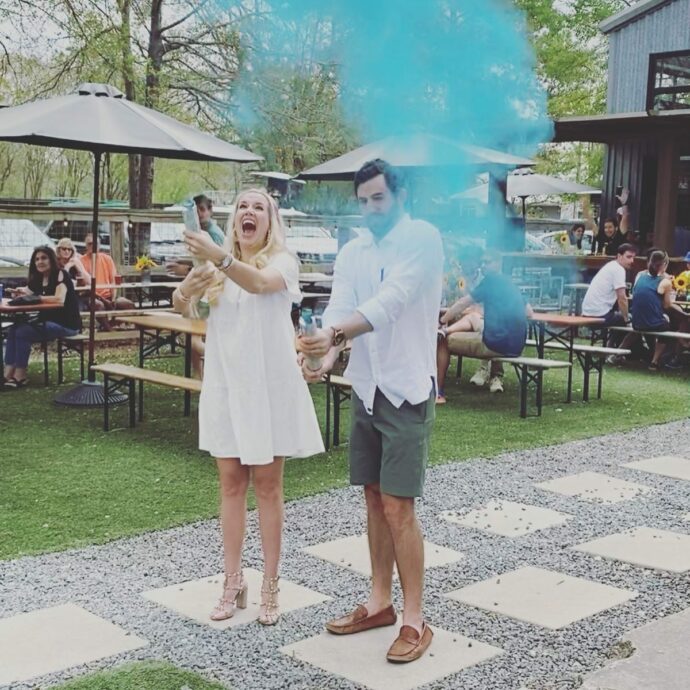 "We LOVE walking stick. I had my gender reveal here. It's settled nicely off major roads, extremely kid friendly, the service is impeccable and the atmosphere is lovely. It's very lush and green and indoors they have the most beautiful floral installations. Definitely a great spot for families or just for a night of beers. They also serve wine!! Highly recommend."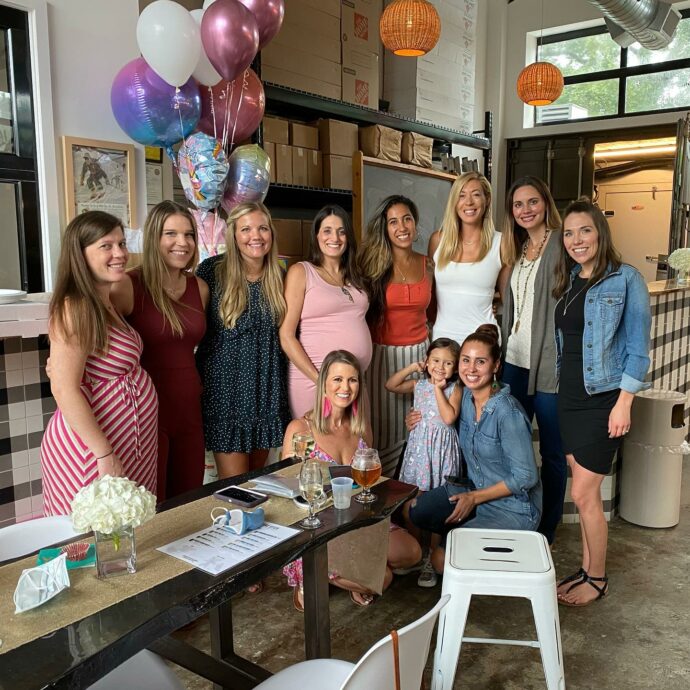 "I attended a baby shower here & the atmosphere was amazing! You can't beat the service & the people that work here are so friendly. The flowers scattered around make such a fun touch! I love that there are both beer & wine options. There is always something fun going on here & the location is so perfect! If you want somewhere you can sit indoors but still have that outdoor feel, it's great for this too- you can go in all different types of weather! Family friendly which is so nice for those that have little ones but still want to enjoy a patio! Highly recommend!"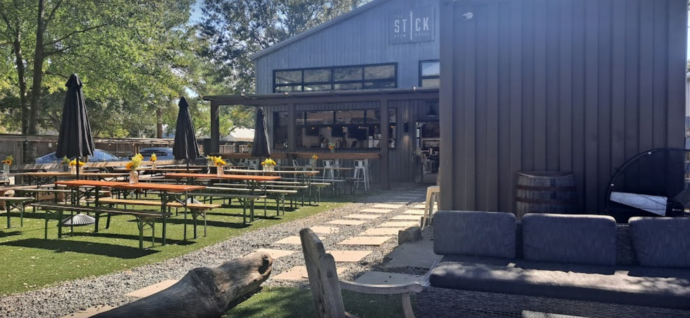 "Absolutely great beer and good food. Service has been incredible. The place is tucked back a little but is nice because you don't hear the road. Sandwiches were great and so were the flights."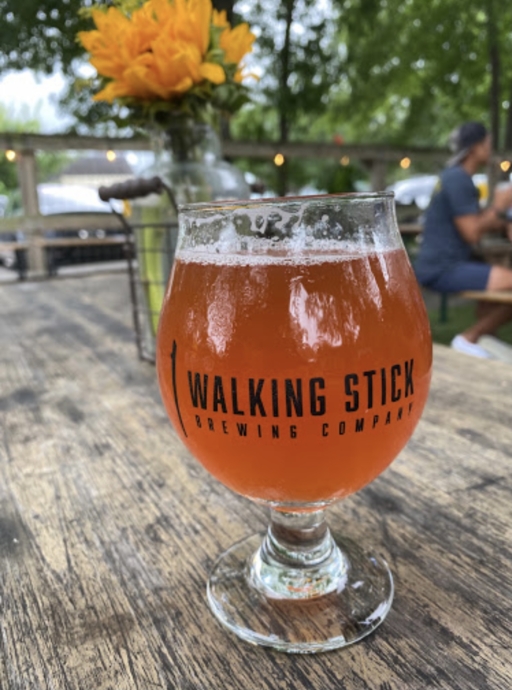 "This place has some great beers! What a way to compliment it with a comfy atmosphere like what they have to offer. It's such a great place to just kick back and enjoy a few rounds!"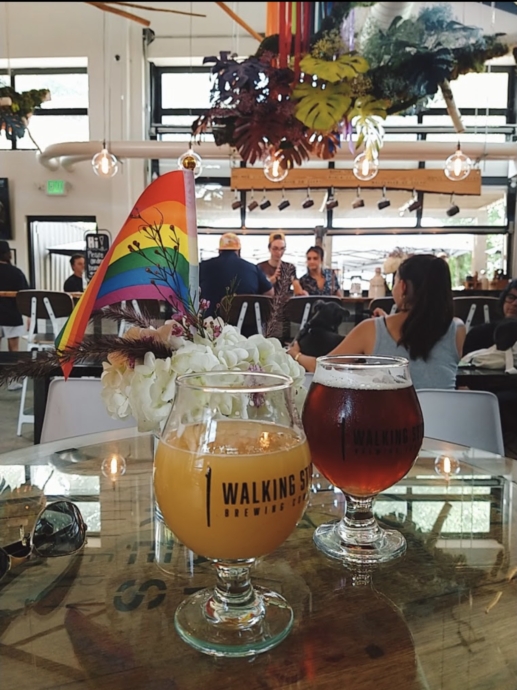 "Beautiful Terrace and interiors. Dog and family friendly. Nice staff and costomers! Love San Luis IPA."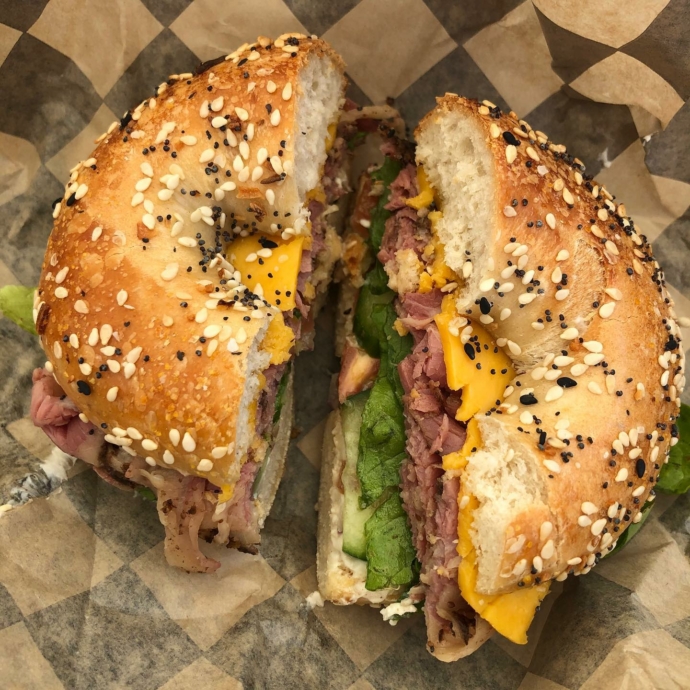 "What a great brewery! Everything was super fresh and really tasty. Loved the peach IPA and the Castle. The bagel sandwiches were delicious. Thomas was very friendly and gave great advice. Totally recommend going and enjoying really good beer. Fun atmosphere and kids friendly as well."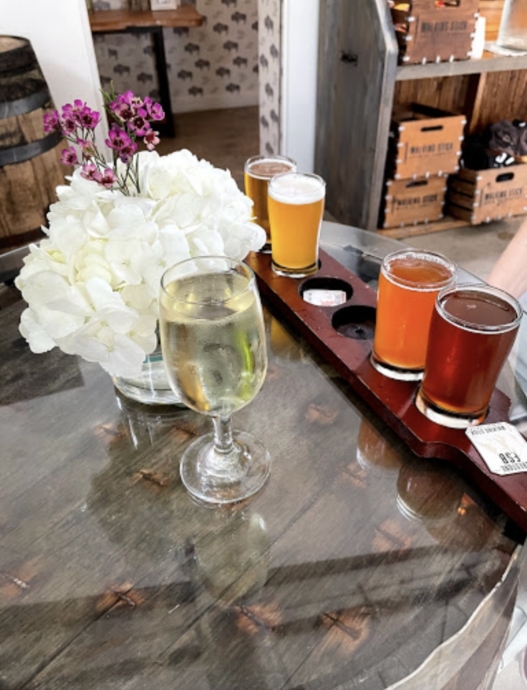 "The brewery is located in a neighborhood so as you drive you may be confused to where this place is but once you see it you are good. The place is very big and spacious, the service was okay not amazing but not bad either. They have a variety of beers, wine, and snacks. I do hope is locally owned and not owned but those huge beer companies. As soon as you walk in I smelled the flowers, the decor is chic but country; so beautifully decorated and very clean."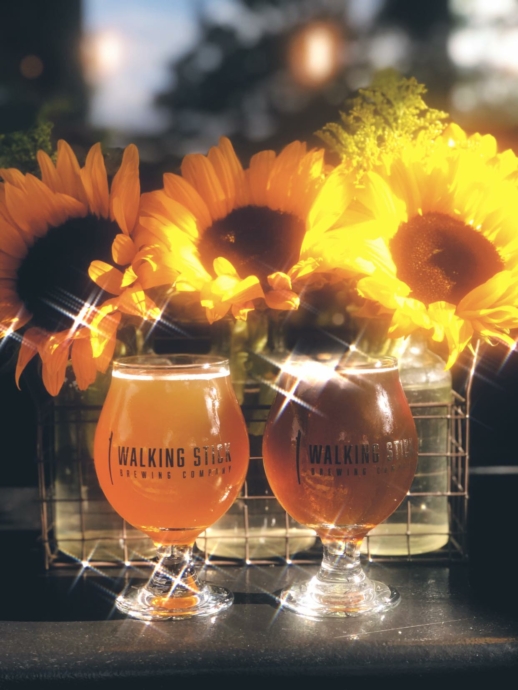 "I want to start by saying just how amazing this brewery really is. I've been there twice, once to eat the delicious Cajun food that was available on the day I went, and second to spend time with friends. Both of the times I went, I experienced the most fun I've ever had at a brewery. The owners daughter had a balloon stuck on the (very high) ceilings, and the owner made it his mission to get that balloon down, while the entire bar was erupting in laughter. I have yet to see any other brewery or bar in the entire world get that excited over a simple balloon. Every single person in the bar (even kids) were invested so much into this balloon, and I think it's safe to say everyone got headaches from how hard everyone was laughing and enjoying this. The owner was easily the nicest owner of a establishment I have ever met, and his family were absolutely delightful. Not being from Houston, I was unsure about how the brewery was but was recommended by my girlfriend. It's hard to understand how absolutely anyone could have anything less than a 5 star experience, but ultimately, this brewery deserves more than 5 stars simply because of their hospitality. Being a tourism major in college, this is the place I talk about most when making references for people on where to go for a wonderful time when they travel to the Houston area. Thank you to the owners for being so friendly and being so hospitable. I will be back."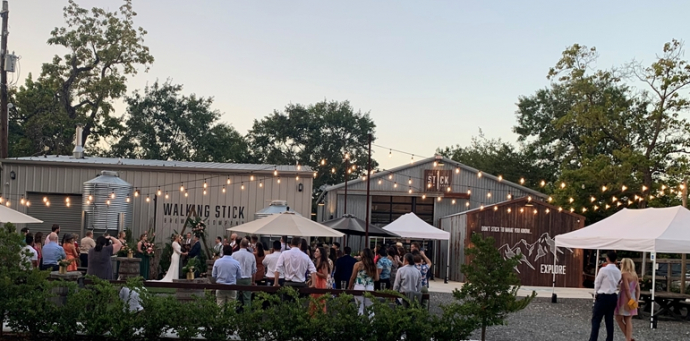 "Great beer and great atmosphere."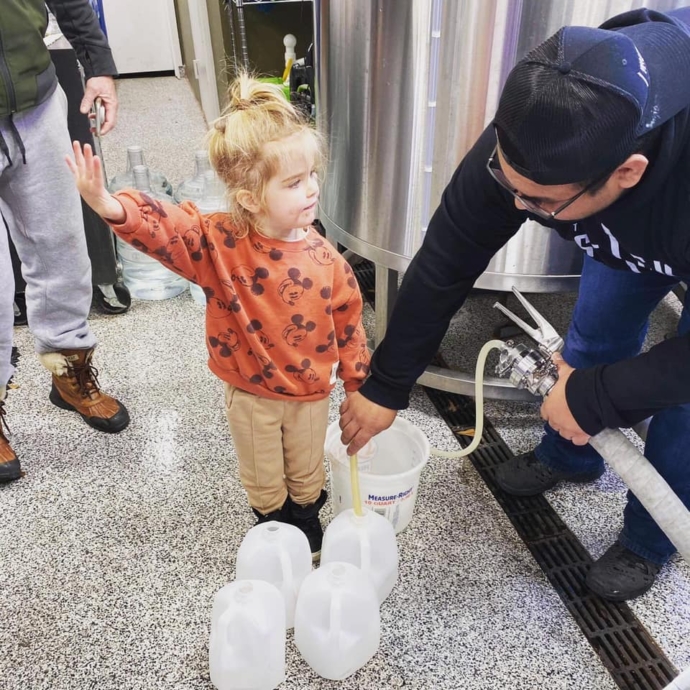 "Wonderful owners that give to their community. "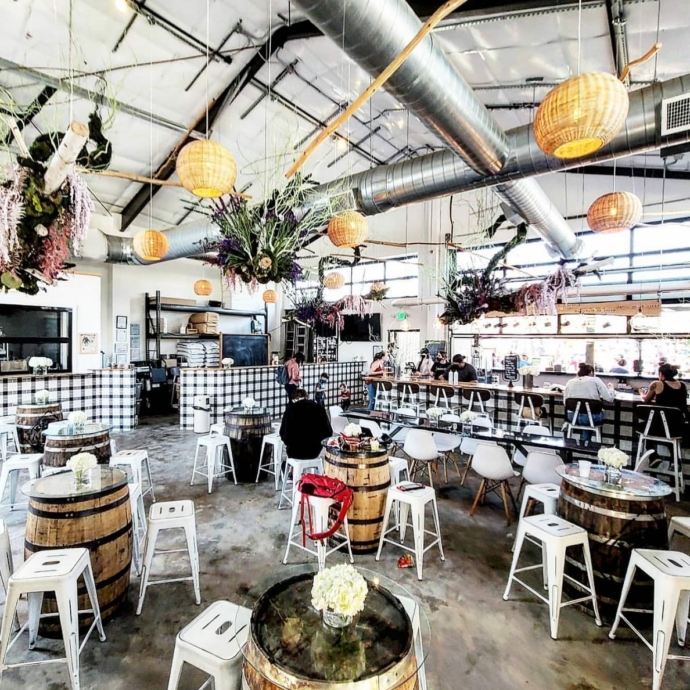 "Great beer and wine options!! BEAUTIFUL setting with lots of seating. GREAT place! Dog & kid friendly. Great Bierstadt Blonde Ale. "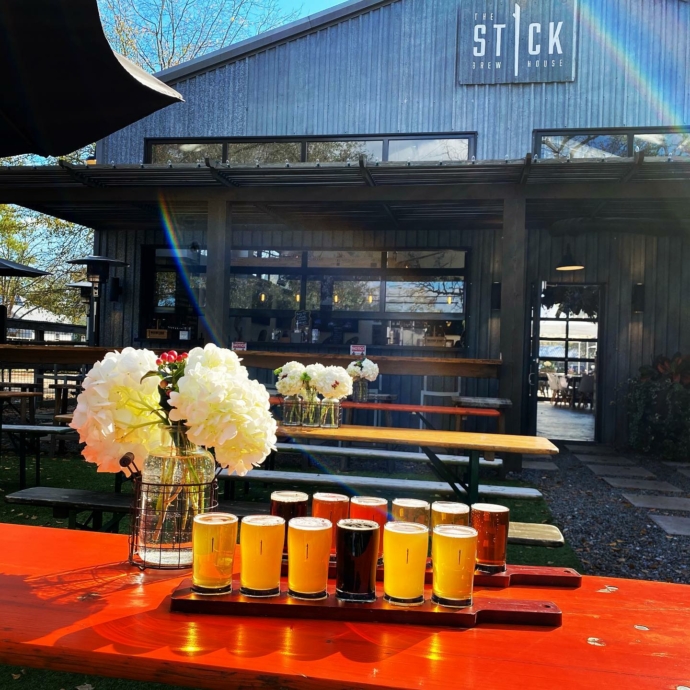 "Very cool place, fun atmosphere, casual, kid & dog friendly. Great beer! I recommend the Milk Stout for you Guinness lovers! It's delicious!"
"Great atmosphere, excellent beer, playing perfect tunes on a beautiful afternoon. Can I live here?"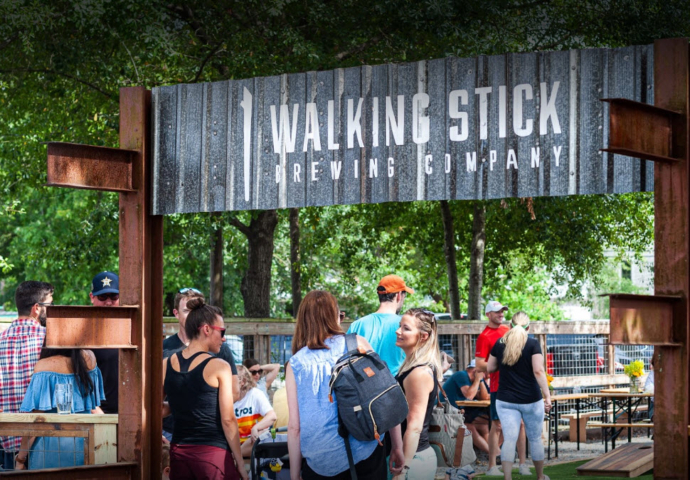 "Great family-friendly staple for our neighborhood! Always has beautiful fresh flowers and lots of play things to distract the kids for a minute so Mommy, Daddy and friends can enjoy a drink. We are lucky to have a nice place like this nearby!"